So What's It All About?
Plans are in the works for LakeSmart 2020, the program's tenth season, which will launch in June and run until the end of August. Once the  new LakeSmart team is in place they will be looking forward to a busy summer travelling the lakes and roads of the area, sharing practical knowledge about what we can each do to contribute to a healthier lake ecosystem and spreading the word about being more sustainable in our stewardship of land and water.
LakeSmart is an award winning environmental outreach program unique to our area. It will be delivered by a team of two post secondary students, each with an environmental education focus, who will spend the summer sharing information on ways that we can live and play green at the lake. The LakeSmart team is equipped with knowledge and resources on a broad range of topics including creating and maintaining shoreline buffer zones, reducing run-off, septic systems, using eco-friendly cleaning products, preventing the spread of invasive species, safe boating and more. 
Although the LakeSmart boat may not go into smaller lakes, the LakeSmart team will drive to many of them and are always open to hitching a ride around your lake to stop at docks, talk to members of your lake community or to participate in your event. We have already booked visits to a few smaller lakes  -  add your lake or association to the schedule and contact us to book a date!
If you miss the LakeSmart team on the water, there are dozens of other opportunities to meet and talk with them. Look for them at local area events, the Matiowski Farmers' Market, meet them at one of our Summer Meetings, or join them on one of the IISD-ELA tours you can book with LOWDSA.
---
Book a LakeSmart Visit! 
Members of the Lake of the Woods District Stewardship Association can book a LakeSmart visit to their lake property. It doesn't have to be on Lake of Woods, we travel around the region including Minaki and Sioux Narrows/Nestor Falls or beyond. We collaborate with other cottage associations for group learning opportunities to help you with specific concerns like purple leustrife. 
Email us: Fill out the questions in this email form to help us make it the most beneficial experience for your visit. The more information you provide, the better. 
---

LakeSmart sponsors and funding
The LakeSmart boat, generously supplied by our lead sponsor, Woodlake Marine, is the key to the program and likely its most recognized feature. However, the LakeSmart program is only possible with the additional support of LOWDSA member donations to the Environmental Initiative & Special Projects (EISP) fund and other sponsors:.  While our 2020 sponsors are not yet finalized we'd like to acknowledge with great appreciation our 2019 sponsors -  Q104 KenoraOnline, Ontario Power Generation, World of Water, Nature Conservancy, Lake of the Woods Water Sustainability Foundation, Garriock Insurance, Lake of the Woods Mobile Marine, the Economic Development Commission (City of Kenora), Cabin Country Realty, LOTW Septic Barge and Talbot Marketing Kenora.
As LOWDSA President Hardy Bock wrote in his June Area News letter, "due to the recent government funding cuts our LakeSmart program was on the verge of being cancelled for 2019. We have been very fortunate that our private sponsors continue to support this program with financial contributions and in-kind donations, but we relied on government funding for this year as we have in past years."
While funding alternatives for 2020 and coming years are being explored, we are actively looking for additional support from our members and looking at alternative sources of funding to cover this year's shortfall. Please consider donating to the Environmental Initiatives and Special Projects Fund this year to help meet our funding requirements for this effective program. For more information or to make a contribution contact Diane @ 807-543-4287 or info@lowdsa.com or contribute online.        
 Watch for the LakeSmart boat on the water or the team at events and be sure to say hello.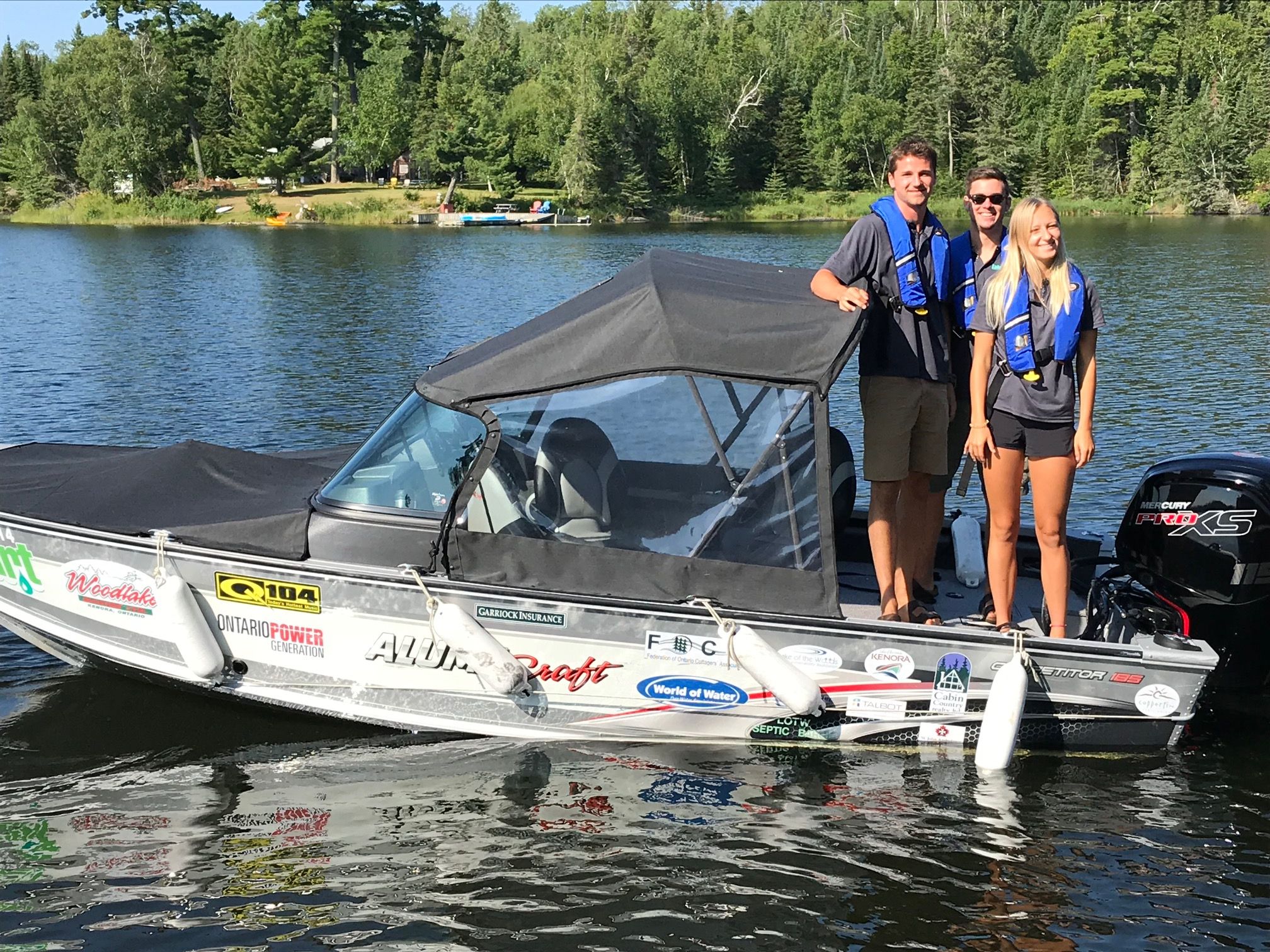 Here's a look at out 2019 Team
We had a dedicated and knowledgeable LakeSmart team in 2018, and we were delighted that all three of them returned in 2019, two of them for their third year and one for his second year. Krista (Robertson), Reed (Cupeiro) and Myles (King), our LakeSmart Ambassadors, were  out on the lakes and at area events from June 24th until the last week of August 24th. They shared practical knowledge about what we can each do to contribute to a healthier lake ecosystem, spreading the word about being more sustainable in our stewardship of land and water and answering  questions on almost anything related to living green at the lake.  Back to Top
Look for the LakeSmart Team
Your LakeSmart team is looking forward to a busy summer travelling the lakes and roads of the area, and we are hoping you will add an invitation to your lake or association event to the schedule.  You can expect to see the LakeSmart boat on Lake of the Woods, stopping at docks and islands, throughout July and August, but look for that LakeSmart flag on smaller lakes, waterways and side roads as well.  Although the LakeSmart boat may not go into smaller lakes, the LakeSmart team will drive to many of them and are always open to hitching a ride around your lake to stop at docks, talk to members of your lake community or to participate in your event. We have already booked visits to a few smaller lakes and are planning to go dock-to-dock in the Morson area; add your lake or association to the schedule and contact us to book a date! Call Shelley at 807-468-8715 or email info@lowdsa.com