The Benefits of Membership
For almost 60 years, the Lake of the Woods District Stewardship Association has been working to preserve and sustain lake life in the region and all that means to us. More than 2,500 members support our efforts, many of whom travel from across Canada and the US to spend time at their 'piece of heaven' in lake country.
Membership is open to residents, cottagers and vacationers – virtually anyone with an interest in this area's environmental and economic sustainability.
The strength of our collective voice is recognized across the province and we represent our membership through a wide range of committees and working groups related to:
Environmental impacts to water quality, fish and wildlife habitat

Property values and fair taxation

Land use & development

Supporting our vibrant, area communities

LOWDSA also keeps you up to date on news and issues via our exclusive to members

Lake of the Woods Area News magazine

, timely eNews blasts and our

Facebook page.
If you're not a member of the Lake of the Woods District Stewardship Association, we hope you'll take a few minutes to learn more about us. To share YOUR passion for lake life, contact us.
LOWDSA efforts are focused with one clear vision in mind…  to preserve one of the most beautiful places on earth as a high quality environment for future generations to enjoy.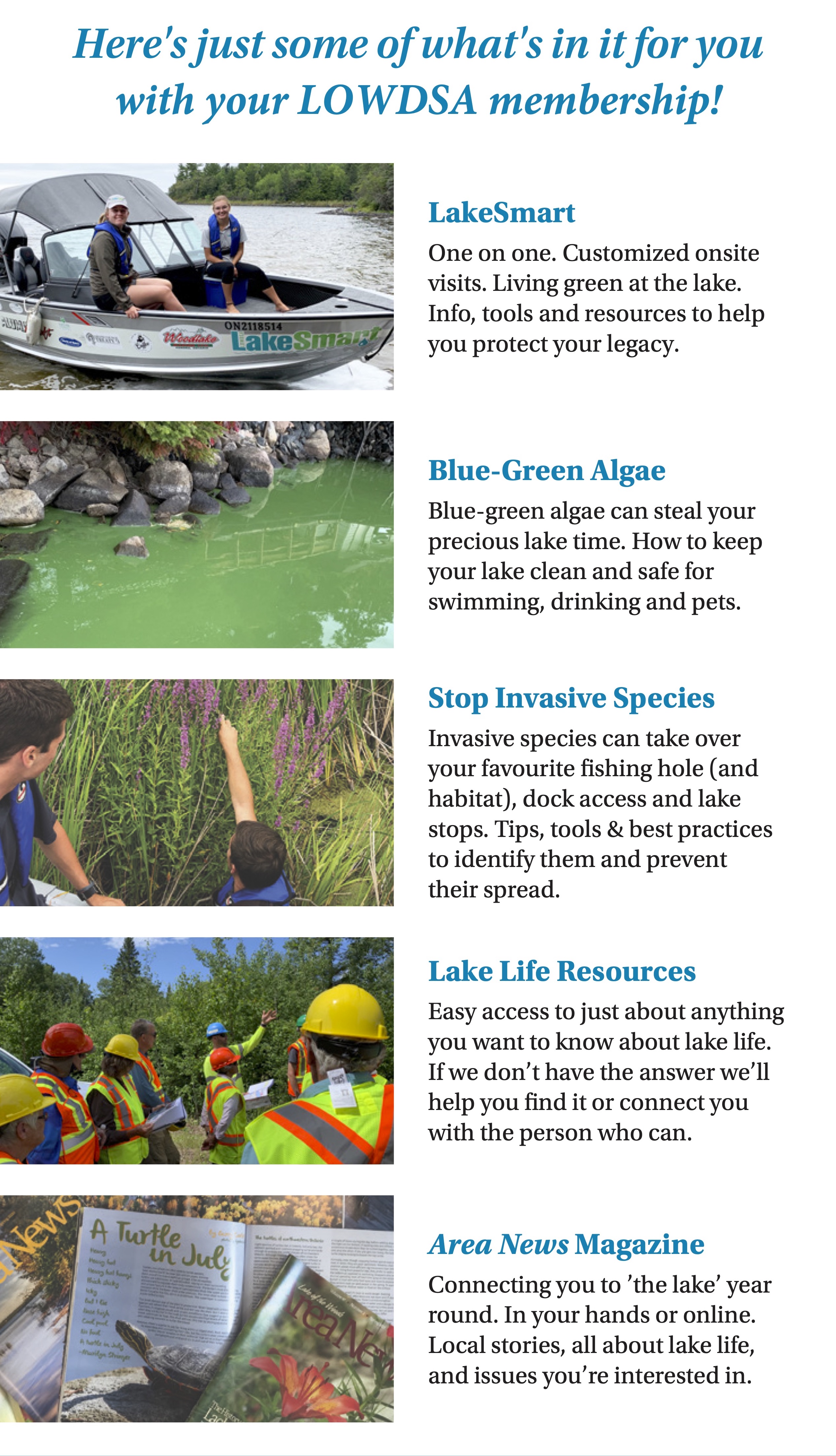 Information about Lake Life:
What's happening in our region along with helpful tips about waterfront living and the preservation of our wilderness.
Lake of the Woods Area News Magazine:
Published 5 times a year exclusively for LOWDSA members.
Advocacy:
A strong voice in Ontario, representing you on issues including fair taxation, environmental concerns, waterfront development.
Annual Lake of the Woods District Cottage Show:
One-stop access to the products and services necessary to live your best life at the lake.
Members' only workshops, seminars and events:
Learn new skills and have some fun doing it.