LOWDSA MEMBERS GET REWARDED!

The Lake of the Woods District Stewardship Association's new rewards program is a great benefit to existing members and an awesome way for new members to take in everything that encapsulates the Lake of the Woods area.
Here's the breakdown: 
When you're logged in as a member, download your rewards card, print it and carry it with you to show local participating rewards sponsors - details and links provided below 
Take advantage of the gifts, discounts, upgrades, special pricing, and more, provided by our partners when you show them your card 
Use your rewards card to try something new while you're at the cottage or exploring the Lake of the Woods area. Or add value to a place you've been loyal to for a long time. Either way it's a great benefit for LOWDSA members!
LOWDSA Rewards partners include: 
Cottage Fire-Safety Service - 10% discount on equipment and installation cost plus one (1) year free annual maintenance and certification. June 1 - August 31   www.cfsservice.ca
Green Adventures – 20% off all services including paddle boarding, kayaking, rock climbing, canoeing, scuba diving and more. Rentals and tours. www.greenadventures.ca
Image One Home & Cottage - 20% off all regular priced showroom items excluding Adirondacks and original art. June 1 - August 31.  www.imageonehome.com
REMR Roofing – Receive a free upgrade from our GOOD Roofing System to our BETTER Roofing System by calling our office or going to www.remrroofing.com and entering your LOWDSA membership number in the "quote details" with your other information.
Solar Solutions Canada - Ask for your FREE bonus gift with purchase of a battery storage system or compost toilet.  www.solarsolutions.ca
WSL Sport and Leisure/Tall Pines Marina - May - September: Ice Cream - buy 1, get 1 50% off - AND - 10% off branded apparel (limited to one Tall Pines Lake style item, excluding sale items).  www.wslsport.com and www.tallpinesmarina.com
And the list is still growing! We will post more as we build great relationships in our communities. 
Do you or someone you know want to partner with our nearly 3,000 members to drive your business? Email us.
How to download your rewards card: 
login to your member profile – www.lowdsa.com/login
Click on your name in the drop down menu on the upper right hand side of the webpage, then click on the member rewards card to print or screen capture it on your mobile device.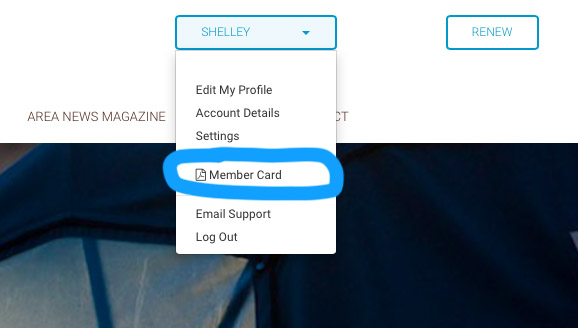 Your card will look like this: