59th Annual General Meeting April 7th - Online!
Members can register here: www.tinyurl.com/LOWDSA    

Register by Monday, April 5th at 11:59 pm CST. 
You will get the Zoom link to tune in to the
 

Water Brothers at 7 p.m., followed by the Annual General Meeting.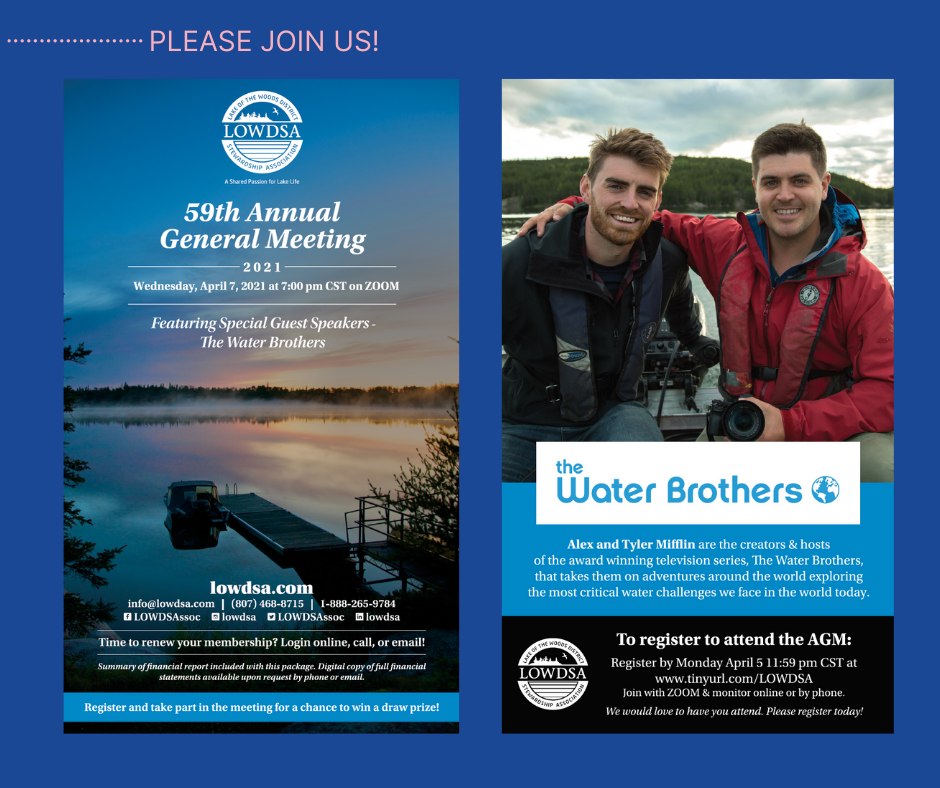 AGM Recap Report 2020
Wednesday, September 30th 2020, 7:00–8:00 p.m.
We went 100% virtual due to COVID-19 restrictions.
If you want to review the video, it's online here: youtu.be/a12tWux11Hg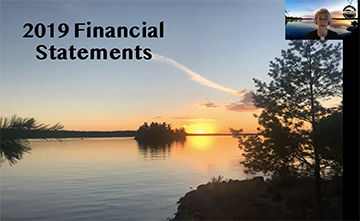 Written Recap:
The virtual venue and fall timing for our meeting this year may have been quite different from past years, but the attendance and format were very familiar. With over 60 LOWDSA members logged on to the AGM webinar, many of them watching with other family members, our best estimate is that approximately 90 people attended our 2020 Special and Annual General Meeting (AGM), which is similar to previous years. 
President Hardy Bock opened the meeting with the presentation of the by-law amendment which was included in the notice of meeting. The amendment was approved unanimously, adding the following provision as subsection 9.3:
"9.3 Meeting Held by Electronic Means. Pursuant to subsection 159(5) of the Act (Meeting held by electronic means), if the directors or members of the Corporation call a meeting of members under the Act, those directors or members, as the case may be, may determine that the meeting shall be held, in accordance with the Regulations, if any, entirely by means of a telephonic, an electronic or other communication facility that permits all participants to communicate adequately with each other during the meeting."
Hardy continued with his president's report, highlighting the past year's accomplishments, addressing issues we face as an association today and concluded with comments on our look ahead to 2021 and beyond. Treasurer Chris Semenchuk (and incoming president) then presented the 2019 financial report (Page #).
Reports for the Environment, Government Affairs and Membership and Communications committees, prepared by committee chairs and presented on their behalf by Hardy, outlined association programs and initiatives for the past year and plans for 2020/2021. The meeting wrapped up following the election of directors and presentation of the 2020/2021 Board.
For those members who were unable to attend the LOWDSA Special and Annual General meeting, here are some excerpts from LOWDSA President Hardy Bock's report.
For the last several years we have spoken about change at this association, some changes were significant, like our name change; others were minor but still important in positioning us as a leader and giving us a voice in many things that affect our lake lives. Even though we've made some changes, one thing remains consistent and that is our responsibility and responsiveness to our member's concerns. 
Our committee structure reflects the topics that are important to our members, Environment, Government Affairs, Membership/Communication and of course Finance. The committees and their members continue to strive to stay on top of developing issues and ongoing concerns. This has become more challenging in the current era of fiscal restraint and devolving of government programs to the private sector. The COVID-19 pandemic has made for even more challenging times for the association. We have moved to virtual meetings, but were able to continue our flagship programs including LakeSmart thanks to our great team of LakeSmart ambassadors and our administrative team, Shelley and Diane.
Our greatest challenge continues to be maintaining our membership numbers and encouraging new and younger members. We're not alone. It seems all membership driven organizations face the same challenge and it's one we continually strive to change. Our membership and Communications committee has been concentrated on this for the past year and you will hear more about them in the committee reports later. Even though the majority of our members are still in the 60-plus age group, we are working to expand our demographic profile by marketing to a larger audience using a variety of traditional media, social media platforms and some specialized marketing tools. Many of these initiatives were begun in 2019 and we have continued to concentrate on them in 2020. 
We recently participated in a strategic planning session led by Robert Bulman, one of our past presidents, which led to some very productive discussions to address the future of this association.
Of course, our most important means continues to be current members. I encourage everyone to 'share the love" and give a gift membership to a family member or friend. Please spread the message about the importance of becoming a member. Talk to your neighbours, family members and your local lake associations about LOWDSA and the benefits of joining. We need to grow to remain a vibrant and robust organization.
We now have just over 2,600 members. Although we remain the largest association of this type in Ontario, our numbers have continued to decrease over the last several years. Our name change is an important part of the effort to engage the next generation of property owners, campers, boaters, sailors and all those individuals and families that share our vision and love of the lake. With your help we are looking forward to keeping the organization alive and growing as we enter the 2020's. 
Today, we will be welcoming new directors to your Board. On behalf of the Board, I would like to extend a heartfelt farewell and thank you to Nancy Salmijarvi who is retiring from the Board after 10 years of dedicated service. Thank you, Nancy! Her contribution and commitment to LOWDSA, its programs and members have been significant and valuable. We are hoping that she is agreeable to remain as a consultant to the Board. She will be missed for her insights, expertise and experience. 
I would also like to thank Jean Anne Hallas, Christine Boult, Jason Coreau, Anneke Gillis  and John Waterer for their service and contributions to the Board.
Financial Report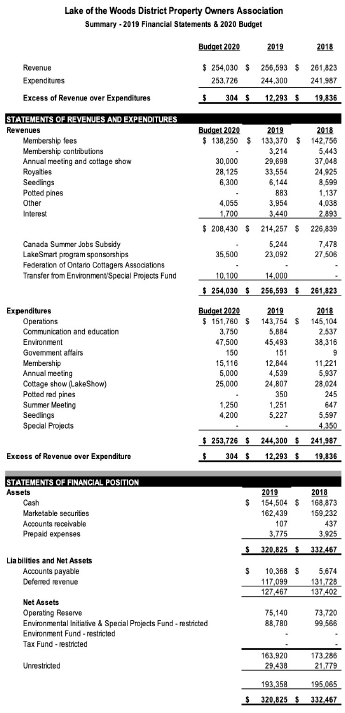 We are pleased to present our 2019 year-end financial statements and 2020 budget as circulated to LOWDSA members prior to the Special and Annual General Meeting and subsequently presented and approved at the AGM on September 30, 2020.
Financial Summary
We ended 2019 with a surplus of $12,293 and the 2020 budget planned for a small surplus in 2020. In 2019, similar to prior years, we had reduced membership revenues and continued to carefully manage all operations and program expenses.
Comparing our balance sheet position at the end of the 2019 fiscal year to the prior year, the operating reserve increased by $1,420 and the Environmental Initiative & Special Projects Fund was reduced by $10,786.
As we previously informed you, we combined the restricted Environment and Tax Funds into one fund – the restricted Environmental Initiative & Special Projects Fund or EISP.  Member contributions are held in this fund, with Board approval required to use the funds and reported annually at the AGM. The EISP fund will be used for planned future environmental initiatives and special projects that would not otherwise be viable within the operating budget.
In 2019, members contributed a total of $3,214 to the EISP.
Revenue
Our 2019 budget was based on expected revenues of $270,465.  Actual revenue totaling $256,593 was below budget by $13,872. We exceeded budget for royalties (+$5,429) and interest but were below budget for membership (-$12,930) and cottage show revenues (-$9,654).   
We were also below budget for both the Canada Summer Jobs Subsidy and LakeSmart program sponsorships.
The 2020 budget included a conversative estimate of membership revenue with continued focus on implementing strategies to increase membership.  
In 2020, we planned to support the LakeSmart program through partner donations/sponsorships versus government program support.
Expenses
Overall 2019 expenses of $244,300 were below the 2019 budget by $31,837. 
Contributing factors include reduced AGM/cottage show expenses (-$6,654), and reduced operations expenses (-$8,033) which included deferred purchase of cyber insurance and reduced Director and ED travel, membership, communication, website and STRIPE fees.  
We made similar assumptions when budgeting 2020 expenses, and adjusted membership and communications expenses in conjunction with reduced membership fees.  
Transfer from the Environment Fund
The EISP fund includes member donations.  Examples of projects funded by the EISP include -  addressing invasive species, environment awareness initiatives (i.e. - boat wash), and research & sharing tax, government and legislative issues (i.e. - Coastguard/Buoys), as well as LakeSmart.
We transferred total of $14,000 from the EISP in 2019 for four items – Watershed Forum, LakeSmart, Septic Brochure and updating of the LOWDSA Tradeshow Display.
In 2020, we budgeted transfer of $10,100 from the EISP for six items including the Watershed Forum, updating of the Living Green at the Lake brochure, LOWDkids activity, both the LOWDSA and LOWDkids websites and $5,000 to support development work on the Mobile Boat Wash. 
We will continue to pursue government and private sector sponsorships for Environment programs such as LakeSmart and the Boat Wash but given the uncertainty around government programs, we encourage member donations to the EISP fund and will seek appropriate approvals to transfer funds from the EISP to support relevant programs when needed.
We budgeted a small surplus for the year 2020. The budget includes a conservative estimate for both membership fees and expenses and a planned transfer of $10,100 from the EISP. These assumptions are included in the 2020 budget, but we will continue to aggressively pursue revenues and closely manage expenses across all areas.  
Your Board of Directors and Executive Director are committed to working from a solid financial foundation to deliver the programs and initiates of the association as planned for 2020. We will continue to aggressively pursue revenues and closely manage expenses across all areas. Please feel free to contact us should you have any questions.
Thank you for your continued support,
Christine Semenchuk, LOWDSA Treasurer
2019 financial statements are available on our website at lowdsa.com/cpages/agm or by email on request. Call 807-468-8715 or email info@lowdsa.com.