ELA Tours are back this summer!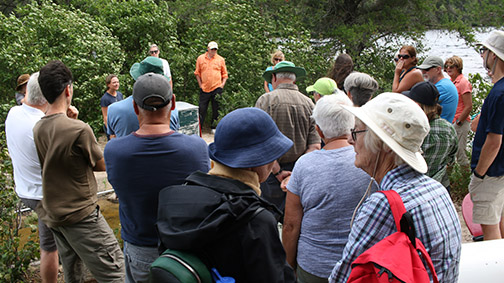 Thank you if you attended an IISD-ELA tour.
See you next year!
Take a look around one of the most unique research facilities in the world to see what they're looking at and how it may be impacting what we know about the world. 
IISD Experimental Lakes Area 
(IISD-ELA) Tours


IISD Experimental Lakes Area is one of the world's most influential freshwater research facilities. Come take part in hands-on testing and learn about the importance of freshwater science for sustainable development.
LOWDSA coordinates bus trips to the site from Kenora.
Meet in Kenora at the Moncrief Construction Sports Centre (Kenora Recreation Centre) at 8:00 a.m., return by approximately 5:00 p.m. 
Tour is on—rain or shine, and appropriate footwear and clothing is required. Tour participants are required to bring a lunch. 
Anyone under 18 must be accompanied by an adult.

$40 for LOWDSA members and $45 for non-members
Questions? 807-468-8715 or email membership@lowdsa.com