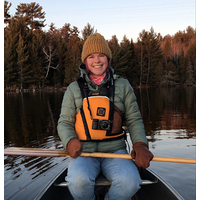 The Lake of the Woods District Stewardship Association (LOWDSA) is excited to introduce for the first-time ever, Environment Program Coordinator Intern, Cassidy Mazur!
For the duration of 2021, Cassidy will take a lead role in developing, implementing, and marketing LOWDSA's environmental programs. We plan to enhance LOWDSA's existing programs, offer more programs and resources to our members than ever before. Cassidy's passion and appreciation for the environment started at a young age and translated into a Bachelor of Environmental Studies at the University of Manitoba. Cassidy's specialized study in Environmental Education will be an excellent fit for our Environment Program Coordinator Intern position. Cassidy's role will be shared with the Lake of the Woods Water Sustainability Foundation and she will be assisting with their public engagement, communication, and environmental initiatives.
Cassidy's involvement with the environmental community, and experience volunteering as the President of The Environment and Geography Students' Association will be an asset to LOWDSA. She has strong work experience in interpretation, outreach, and public relations through working as a Park Interpreter with Manitoba Conservation and Climate and as an Education and Outreach Assistant with IISD-Experimental Lakes Area.
We are thrilled to have her working on our existing programs as well as exploring new ones. LOWDSA President Chris Semenchuk noted: "We are looking forward to Cassidy's involvement with the LakeSmart program and her working with our members on environmental topics." She continued, to say "Her project management experience will help enhance LOWDSA's events and other initiatives."
LOWDSA is a non-profit association of almost 3,000 member families focused on the sustainability of lake life. We aim to sustain one of the most beautiful places on earth and to ensure the experiences we cherish will be passed on to future generations. Operating for almost 60 years, LOWDSA is the largest organization of its kind in Ontario, Canada. Membership includes part-time and permanent residents in the Lake of the Woods watershed, as well as those who simply have a shared passion for the overall environment and lake life experience: the state of our lakes, forests, fisheries, and communities.
---