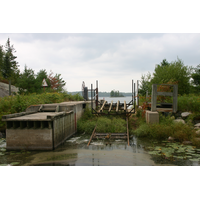 If you are interested in the future of the Turtle Portage Marine Railway and want to make your voice heard, you have two opportunities to do so in person this summer.
July 15th- MorsonCommunity Hall @ 2:30pm (immediately following LOWDSA Summer Meeting)
August 14th- Sioux Narrows Community Centre @ 4pm

MNRF intends to provide public access to the Turtle Portage Marine Railway system during the 2019 boating season. Fiscal constraints however remain unchanged and the ministry advises that a long term, cost-saving solution must be found for the future. It is the ministry's hope that a partnership can be established that allows for the continued operation of this facility. Ministry staff encourages LOWDSA members and others to consider potential opportunities and are looking forward to hearing your ideas at this meeting.
Background: The Ontario Ministry of Natural Resources and Forestry (MNRF), Kenora District, contacted stakeholders in September 2018 via mail-out, a newspaper ad and a sign posted at the Turtle Portage Marine Railway System located on the Aulneau Peninsula. These notices communicated to the public and Indigenous Communities the Ministry's intent to decommission the railway system. A number of comments and concerns were expressed regarding the proposed decommissioning.
In order to allow further public and stakeholder involvement, the MNRF has postponed the decision and is seeking additional input and potential options from the public, businesses and Indigenous Communities.
MNRF is inviting you to attend our open house public information sessions that will include a presentation on the history of operations at Turtle Portage and the challenges associated with the maintenance and operation of this system.
If you are unable to attend these sessions or require additional time to share your concerns, please contact the ministry to arrange a meeting or send your written comments to:
James Williams
Integrated Resource Management Technical SpecialistMinistry of Natural Resources and Forestry
Kenora District Office
808 Robertson Street
P.O. Box 5080 Kenora, ON P9N 3X9 tel: 807-468-2543 fax: 807-468-2736
e-mail: james.williams@ontario.ca
---