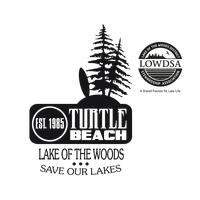 Save our lakes!
Turtle Beach Clothing Co. partners with LOWDSA to raise funds for mobile boat wash station
LOWDSA's plan for a mobile boat wash station moved one huge step forward when we were approached by Turtle Beach Clothing Co. with an offer we could not refuse and were delighted to accept. In this new partnership, a portion of all Turtle Beach Clothing Co. sales will be donated to the fund we are building for the mobile boat wash station.
The company, originally established in 1985 in Kenora, Ontario, by local entrepreneur Bob Firth, is making a return with a new eco-friendly message, focused on freshwater lake sustainability and preserving it for years to come. It aims to raise awareness about water pollution and the effects it has on local wildlife.
All clothing is proudly Canadian-made featuring the use of eco-friendly and sustainable materials such as organic cotton. It is available to purchase at www.turtlebeachclothing.ca, on Facebook, Instagram, or at Bob's Burger Bar, 152 Main St. South in Kenora, Ontario.
We applaud Turtle Beach Clothing Co.'s commitment to work with LOWDSA on this important initiative that ties in so directly to our mission to preserve one of the most beautiful places on earth as a high-quality environment for future generations to enjoy.
---