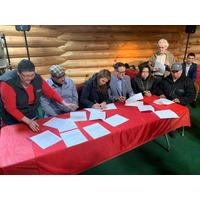 Watch for updates on next steps towards twinning the Trans-Canada between Kenora and the Manitoba border following the signing of a a Memorandum of Understanding between the Province of Ontario and four First Nations. (Photo credit: Kenora Online Q104)
Pictured signing the MOU at Rat Portage First Nation yesterday are Chief Marilyn Sinclair of Wash Bay, Councillor Billy Wahpay of Shoal Lake 40, Ontario Minister of Transport Caroline Mulroney, Ontario Minister of Indigenous Affairs Greg Rickford, Chief Lorraine Cobiness of the Dalles and Chief Chris Skead of Wauzhushk Onigum.
According to the Kenora Online Q104 report ........ "Aside from the process of bidding and signing a contract, the people of Kenora and the northwest need to know we're good to go," said Kenora-Rainy River MPP Greg Rickford, who also serves as the minister responsible for Indigenous Affairs and Northern Development.
According to the 89.5 The Lake report ...... The Transportation Minister Caroline Mulroney was in Kenora to sign a couple of memorandums of understanding with area First Nations. Mulroney says that includes straightening out Highway #673, the road to Shoal Lake #39. "We are working closely with Shoal Lake #39 to make sure we can move forward with that," says Mulroney. "MTO regional staff has a meeting next week planned with them and so I will be hearing more in the future."
A statement from Kenora riding MP Eric Melillo commenting on this recent development is attached. According to this media release, the Ontario government has committed to putting shovels in the ground by the summer of 2020.
As more information is made available we will share it in LOWDSA's Lake of the Woods Area News magazine and member eNews bulletins and online.
https://www.kenoraonline.com/local/twinning-trans-canada-a-step-closer (Photo credit: Kenora Online Q104)
https://www.895thelake.ca/2020/02/05/122538/
---