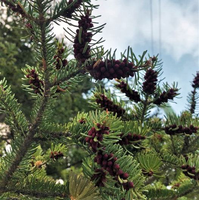 From the Ministry of Northern Development and Mines, Natural Resources and Forestry
MAJOR AMENDMENT INSPECTION WHISKEY JACK FOREST 2012-2022 FOREST MANAGEMENT PLAN
The Ontario Ministry of Northern Development Mines Natural Resources and Forestry (NDMNRF), Miisun Integrated Resource Management Co. and the Kenora Local Citizens' Committee invite you to inspect the MNRF-approved major amendment to the 2012-2022 Forest Management Plan (FMP) for the Whiskey Jack Forest.
This amendment provides for operational planning to add new harvest area to the 2012-2022 Whiskey Jack FMP. The new harvest area is required to ensure a secure and uninterrupted wood supply for the local mills as a result of the expected one-year delay in FMP planning on the Whiskey Jack Forest (a plan extension, up to two years if needed, to the 2012-2022 FMP will be implemented to extend the plan until the next Whiskey Jack FMP is completed).
How To Get Involved
During preparation of a major amendment to a forest management plan, two formal opportunities for public consultation and First Nation and Metis community involvement and consultation are provided. The first opportunity for this amendment (Stage One) invited the public and First Nation and Metis communities to review and comment on the proposed major amendment. This Stage Two notice advises you that the MNRF-approved major amendment is available for inspection.
The NDMNRF-approved major amendment will be available for inspection electronically on the Ontario government website at
https://nrip.mnr.gov.on.ca/s/fmp-online and upon request by contacting the MNRF contact listed below, during normal business hours
Interested and affected persons and organizations can arrange a remote meeting with NDMNRF staff to discuss the approved major amendment by contacting:
Mitchell Legros, R.P .F.
NDMNRF, Thunder Bay Office
435 James Street S.,
Thunder Bay, ON P7E 6S7
tel: (807) 620-0088
e-mail: mitchell.legros@ontario.ca
Kurt Pochailo, R.P.F.
Miisun Integrated Resource
Management Inc.
510 Ninth Street North
Kenora, ON P9N 2S8
tel: 807-467-3351
e-mail: kurt.pochailo@miisun.ca
Full Release Attached
---