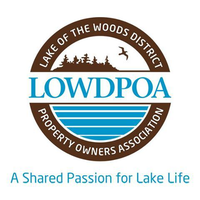 LOWDPOA launches LakeSmart boat for the summer; LakeSmart team set to visit area lakes and events.

The LakeSmart boat has become a familiar sight on Lake of the Woods each summer, and we're launching it for our 8th season on the water on Tuesday, July 3rd at 11am from the Kenora Harbourfront docks. LakeSmart sponsors, LOWDPOA Directors and members will be on hand to see them off when they head out from the docks on Tuesday.

LakeSmart is an environmental outreach program unique to our area. It is delivered by the LakeSmart team - three students, each with an environmental education focus. These LOWDPOA ambassadors spend the summer sharing information with shoreline residents and anyone who enjoys the lakes and environment on ways that we can live and play green at the lake. They will be sharing practical knowledge about what we can each do to contribute to a healthier lake ecosystem, spreading the word about being more sustainable in our stewardship of land and water.

In the seven years that LakeSmart has been on the water, we have reached thousands of people with our environmentally-friendly messaging, expanding the scope of the program a little each year. The LakeSmart team is equipped with knowledge and resources on a broad range of topics including creating and maintaining shoreline buffer
zones, reducing run-off, using eco-friendly cleaning products, preventing, the spread of invasive species, safe boating,and our new Septic Systems 101 info sheet and checklist.

The 2018 LakeSmart team - Krista Robertson, Reed Cupeiro and Myles King - is looking forward to a busy summer travelling the lakes and roads of the area, and always welcomes invitations to visit lake or association events. You can expect to see the LakeSmart boat on Lake of the Woods, stopping at docks and islands, throughout July and August,
but look for that LakeSmart flag on smaller lakes, waterways and side roads as well.

If you miss the LakeSmart team on the water, there are dozens of other opportunities to meet and talk with them. Look for them at local area events such as the Matiowski Farmers' Market and Canada Day, in Sioux Narrows-Nestor Falls, at the 100th LacLu Regatta, meet them at the Summer Meeting in Kenora or Sioux Narrows-Nestor Falls, or perhaps join them on one of the three IISD Experimental Lakes Area tours that can be booked with LOWDPOA.

The LakeSmart boat, generously supplied by our lead sponsor, Woodlake Marine, is the key to the program and likelyits most recognized feature. However, LakeSmart and Invasive Species Outreach is only possible with the additional support of LOWDPOA member donations to the Environment (Special Projects) fund and other sponsors: World of Water, Q104 KenoraOnline, FOCA (Federation on Ontario Cottagers Association), Ontario Power Generation, Copperfin Credit Union, Garriock Insurance, Lake of the Woods Mobile Marine, ,Lake of the Woods Water Sustainability Foundation, the City of Kenora, Cabin Country Realty, Ontario Federation of Anglers and Hunters', Invading Species Awareness Program, LOTW Septic Barge, St. John Ambulance, Talbot Marketing Kenora.

For more information contact: Diane Schwartz-Williams, Executive Director, LOWDPOA
diane@lowdpoa.com
807-543-4287
Lake of the Woods District Property Owners Association
PO Box 1160 Kenora, Ontario, Canada P9N 3X7 info@lowdpoa.co www.lowdpoa.com
---