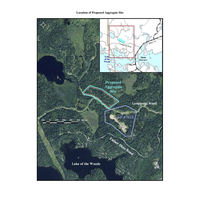 This is a Notice that Category 9 (gravel pit) and Category 11 (quarry) aggregate applications have been submitted to the Ontario Ministry of Natural Resources and Forestry (MNRF) for two sites, one located off the Longpoint Road (Km. 1.2) approximately 1.5 kilometres northwest of Sioux Narrows and the second located off the Pickerel Lake Road (Km 10.9) approximately 30 kilometres northwest of Kenora.
LOWDSA was included in the distribution of this notice, which was also sent to aboriginal communities and organizations, Miisun, trappers, bear management area holders, baitfish license holders, provincial ministries (MTO, MENDM, MECP) and other identified stakeholders. We are pleased that MNRF (Ministry of Natural Resources and Forestry) shared this notice with us so that we could reach out to our members in proximity to the two sites who may wish to review the plan and submit comments. We were advised that the notice was not issued to private landowners in the relevant area and that there are no private landowners within at least 120 metres of either site. In accordance with MNRF practice a public notice for each application was published in the Kenora Enterprise.
The project summaries, public notices and letters are attached and the complete application package is available for viewing at the MNRF Kenora District MNRF Office during normal business hours (by appointment). Digital copies of the site plans and technical reports are available to landowners and stakeholders by contacting either Ron Simmons or Sonya Zuber (see below).
Written submissions identifying any comments or concerns that you may have with either of these applications are to be submitted to:
Ron Simmons
Northwest Forestry Services
Site 13, Box 24, RR #1 Keewatin, Ontario P0X 1C0
Email: Ron Simmons
Phone: (807) 543-1512; Cell & Messages: (807) 467-1993
Sonya Zuber,
Aggregate Technical Specialist at the Ministry of Natural Resources and Forestry
922 Scott Street, Fort Frances, Ontario, P9A 1J4
Email: Sonya Zuber
Phone: (807) 274-8609
Comments must be received within the 30-day comment period, which expires on Tuesday, April 2nd, 2019.
Only those persons or agencies that commented or those who request notice will be notified directly of the completion of the project evaluation, and that MNRF may proceed to implement the project without issuing further general notice.
Comments and personal information regarding this proposal are collected under authority of the Environmental Assessment Act and the Aggregate Resources Act to assist MNRF in making decisions. Comments not constituting personal information as defined by the Freedom of Information and Protection of Privacy Act (FIPPA), will be shared among MNRF and others as appropriate, and may be included in documentation available for public review. Personal information will remain confidential unless prior consent to disclose is obtained.
---