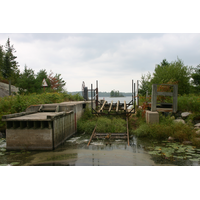 Turtle Portage Marine Railway operational this summer
When we contacted the Ministry of Natural Resources and Forestry (MNRF) several months ago there was no new info on the status of Turtle Portage. That's has changed, and it's good news for now.
Turtle Portage is currently operational and open to the public. Kenora District MNRF recently received a one-time funding commitment from the ministry to perform modest upgrades at the facility, and the intent is to make the system more reliable and user-friendly.
While most of the work will not take place until fall 2020 at the earliest, a new dock is currently being installed on the south side to improve access to the facility. Th​e scope of the project has yet to be determined. Potential upgrades may include certain items identified through the engineering inspection that was discussed during last summer's public open houses. Examples include improvements to the walkway, docks, and transfer system.
The same individual as last year has been contacted to provide routine maintenance. In addition to ensuring the system is functional, the contractor will also be removing brush and scrap wood from the site.
Ministry staff stressed that these are one-time repairs, possible only with the one-time funding and that the Ministry is still seeking a private operator to assume the facility's operation. To date, no proposals have been received by the ministry to assume the facility's operation. Also, no public inquiries have been received by the Kenora ministry office this year regarding Turtle Portage.
---