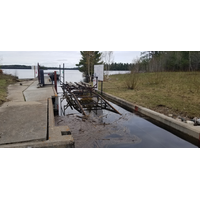 Due to high water levels, improvements to the Turtle Portage marine railway system on Lake of the Woods have been delayed.
The current facility remains functional and accessible to the public. Be aware that debris may accumulate in the channel due to water flowing across the portage. See photo below.
Please exercise caution when operating the system.
Retrofit construction will begin once water levels have declined. The facility will then be closed for approximately eight weeks.
---