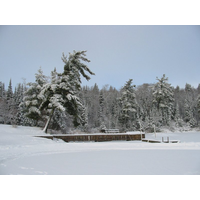 For consideration from FOCA (Federation of Ontario Cottagers' Associations) March 2020 Elert
Sheltering at the cottage: an emerging

discussion
Safety First
If you are a snowbird, or otherwise returning from travel abroad, Health Canada requires you to self-isolate for 14 days. Information is available online here: Health Canada COVID-19 Information.
What if you own property in two places in Ontario, and want to relocate from one to the other, such as: shelter in place at your cottage? FOCA has heard from many members, partners, and municipal contacts over the past days about this issue. Many are concerned that any transiting increases the chance for spread of illness.
FOCA reminds members that our rural communities have reduced capacity to accommodate sudden changes in supply demands; put another way, cottage country isn't expecting you yet. Most of us wouldn't ordinarily open the cottage until nearer to the May long weekend. As we already know from our local grocery experiences, parts of the supply chain are under strain. Additionally, rural hospitals have limited capacity, and you should consider where your health needs can best be met, in an emergency situation.
If you do relocate to your waterfront residence (or are there already), FOCA suggests the following:
Connect with your lake association on social media (find many connections via FOCA's Facebook page, here). As always, these are the people who know your waterfront area best!

Provision yourself for several weeks (with food, drinks, gas, hardware supplies, prescriptions) before leaving your off-season community, so that you will not need to make stops along the way. This is not the time for our usual credo to "buy local" in cottage country. As you would do anywhere at this time, should you urgently need anything from a retailer or pharmacy, you should call ahead to see if there are options for safe pickup or delivery.

Continue to follow all the principles of social distancing at the cottage! Although cottage country is usually the place for relaxed rules, that cannot be the case anywhere for the foreseeable future. Cottages are often the gathering places for multiple households in an extended family; for now, and possibly for some time to come, that could put everyone at risk.

Develop an exit plan with immediate family, in case you develop any indications of illness while at your waterfront property.

As the clock slows down on our usually-hectic schedules, use this time to enjoy nature, cook, read, sing, dance, nap, and dream about dock-jumping time to come.
---