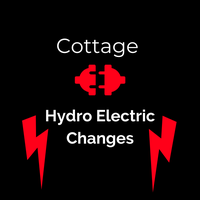 Hydro Rates Changing - Seasonal and COVID Related
The changing nature of COVID related financial support measures has meant a change in electricity pricing for Ontario consumers. There is important information about this change we knew would be of interest to you. We have included it as an attachment with thanks to LOWDSA member Bob Stewart who sits on our Government Affairs Committee and prepared this overview for us.
Key observations & recommendations
1. Use the OEB online calculator to determine which pricing formula works to your advantage. www.oeb.ca/rates-and-your-bill/bill-calculator
2. Not everyone is eligible – in this area about 20% of Hydro One rural customers still don't have working Smart Meters due to no or poor cell service and the tiered formula is their only option.
3. Time-of-Use is the default. Those wanting to use that pricing formula need to do nothing.
4. You can switch back and forth at any time (10 business day notice to your utility by filling out a form for it take effect on next billing period)
5. Worthwhile to check the calculations again in the spring as rates change again May 1
---