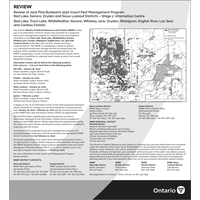 Review of Jack Pine Budworm 2020 Insect Pest Management Program
Red Lake, Kenora, Dryden and Sioux Lookout Districts – Info Sessions January 28 - February 4, 2020
Red Lake, Trout Lake, Whitefeather, Kenora, Whiskey Jack, Dryden, Wabigoon, English River, Lac Seul, Caribou Forests
The Ontario Ministry of Natural Resources and Forestry (MNRF) is holding info sessions for public review and comments on a proposed insect pest management program to control the jack pine budworm infestation on the Red Lake, Trout Lake, Whitefeather, Kenora, Whiskey Jack, Dryden, Wabigoon, English River, Lac Seul and Caribou Forests in the Red Lake, Kenora, Dryden and Sioux Lookout Districts.
The MNRF is considering a variety of options (e.g. redirected harvest and salvage harvest) but based upon the analysis of the available insect pest management options, the MNRF is proposing a course of action that would also include aerial spraying of insecticide on selected forest stands as part of an overall integrated strategy.
Comments on the proposed insect pest management program and associated project proposals must be received by the appropriate MNRF District Contact listed by February 12, 2020.
Information Centres will be held at the following locations from 3:00 p.m. - 7:00 p.m. local time on the following dates:
Ear Falls - January 28, 2020

Royal Canadian Legion, Branch #238, 40 John Street, Ear Falls, Ontario

Dryden - January 29, 2020

Royal Canadian Legion, Branch #63, 34 Queen Street, Dryden, Ontario

Sioux Lookout - January 30, 2020

Royal Canadian Legion, Branch #78. 86 Front Street, Sioux Lookout, Ontario

Ignace - February 4, 2020

Royal Canadian Legion, Branch #168. 168 McLeod Street, Ignace, Ontario
For those in the Kenora and Red Lake areas, a display in lieu of an information centre of the draft proposed operations will be available for viewing and comment during the comment period from January 28, 2020 - February 12, 2020 during normal business hours at the MNRF Red Lake and Kenora District Offices by appointment.
General information regarding the planning process as well as information displayed at the information centres will be available for viewing at other MNRF District Offices by appointment during the comment period. Please call ahead to ensure someone is available to assist you with the review.
During the preparation of an insect pest management program, there is an opportunity to make a written request to seek resolution of issues with the MNRF Regional Director using a process described in the 2017 Forest Management Planning Manual (Part D, 7.5.4; Part A, Section 2.4.1.2). The last day to request issue resolution is March 13, 2020.
Additional contact information attached to this post. .
---