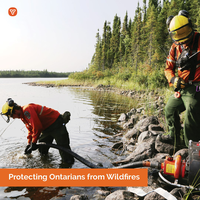 Ontario Provincial Restricted Fire Zone designation lifted as of 12:01 a.m. on May 16
Although the fire ban has been lifted, conditions remain dry and everyone is strongly encouraged to use extreme caution when burning. Consider weather conditions before burning.
From April 1 to October 31, controlled seasonal burning is in effect which means NO DAY BURNING and limited evening burning. Evening burning can take place between two (2) hours before sunset and two (2) hours after sunrise.
CITY of KENORA: The complete fire ban for the City of Kenora has also been lifted. Burning Permits are required for all outside burning except campfires within city limits. If you require a burning permit, please contact City Hall at 807-467-2000 to purchase over the phone. Fire Station One, 14th Street North, is not able to process burning permits at this time. Rules and contraventions included with the permit must be reviewed by the person in charge of the fire before burning starts. Fireworks are allowed on Victoria Day Monday, May 18, between 7 p.m. and 11 p.m. only.
---