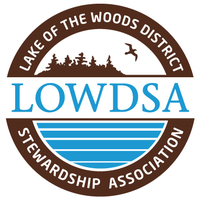 FOR IMMEDIATE RELEAE
June 29, 2021
LOWDSA Launches LakeSmart Boat for the Summer
Friday, July 2nd at 1:30 pm, Whitecap Pavilion
The LakeSmart boat is back on the water for its 11th season. On Friday, July 2nd, at 1:30 pm the LakeSmart team will be launching the boat and heading out on the lake from the Kenora Harbourfront. LakeSmart sponsors, Lake of the Woods District Stewardship Association (LOWDSA) Directors and members will be on hand to see them off when they head out from the docks in front of the Whitecap Pavilion on Friday.
LakeSmart is an award-winning environmental outreach program unique to our area. It is delivered by the LakeSmart team - four students, each with an environmental education focus. These LOWDSA ambassadors share information on ways to live and play green at the lake, including practical knowledge about what we can each do to contribute to a healthier lake ecosystem.
In the eleven years that LakeSmart has been on the water, LOWDSA has reached thousands of people with our environmentally-friendly messaging, spreading the word about being more sustainable in our stewardship of land and water. The LakeSmart team is equipped with knowledge and resources on a broad range of topics, including creating and maintaining shoreline buffer zones, reducing run-off, preventing the spread of invasive species, and safe boating.
Abbi Friesen, Brie McCardle, Seanna Cyncora, and Quinn Miller, our 2021 LakeSmart team, are looking forward to travelling the lakes and roads of the area and always welcome invitations to visit lake, family, or association events. You can expect to see the LakeSmart boat on Lake of the Woods, stopping at docks and islands throughout July and August. While the LakeSmart boat may not go into smaller lakes, the team will drive to many of them and are always open to stopping at docks or participating in lake events.
As we work through this second year of COVID-19, the LakeSmart team will continue to host online events and safely participate in many events, such as the Matiowski Farmer's Market.
The LakeSmart boat, generously supplied a lead LakeSmart sponsor, Woodlake Marine, is the key to the program and likely its most recognized feature. However, LakeSmart is only possible with the additional support of LOWDSA member contributions to the Environmental Initiatives & Special Projects (EISP) fund and other sponsors: Invading Species Awareness Program (ISAP), Eco-Canada, Lake of the Woods Water Sustainability Foundation (LOWWSF), Copperfin Credit Union, Q104, World of Water, Nature Conservancy Canada, Ontario Power Generation (OPG), Grand Council Treaty #3, Kenora & Lake of the Woods Community Foundation, Lake of the Woods Coffee Company, Cabin Country Realty, Lake of the Woods Mobile Marine, Richard McKenzie Insurance, Talbot Marketing, and LOW Septic Barge.
-30-
Contact: Patrick Paulo, Executive Director, LOWDSA patrick@lowdsa.com 807-543-4287
Lake of the Woods District Stewardship Association PO Box 1160 Kenora, Ontario, Canada P9N 3X7
---