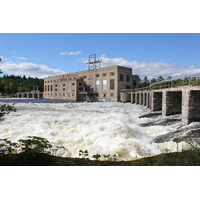 The Lake of the Woods Control Board issued a public information notice on Friday, October 24th. This notice is quite comprehensive, but an easy read with important information for those concerned about water levels and potential property damage. It includes an overview of current conditions, an explanation of goals for high outflow and outlooks to freeze-up, winter and spring.
The notice is introduced with the following header and highlight statement.
High flows to continue across English and Winnipeg River Basins
Highlights: Extremely high fall flows into Lake of the Woods, Lac Seul and along the Winnipeg and English Rivers have developed over the last several weeks and are expected to continue into November. High flows in late fall increase risk of damage to shorelines over winter and high water levels in early spring.
The full notice is linked and can be read online or downloaded. We have not attempted to summarize this notice, as every part of it is relevant to anyone that is concerned with water levels, outflow and the potential for damage to their property.
Interested in receiving notices like this by email? This notice was emailed on October 24th to all LOWDSA members with valid emails on file. If you are a LOWDSA member and did not receive the email, that simply means we do not have a current email on file for you. If you would like to receive LOWDSA eNews bulletins in the future, please email or call 807-468-8715 that we can update your member profile.
Visit www.lwcb.ca for the latest water levels and flows and refer to the LWCB's Notice Board for updates on planned flow adjustments:
LWCB Notice Board: www.lwcb.ca/noticeboard.html
Recorded message at 800-661-5922 ex. 1
---