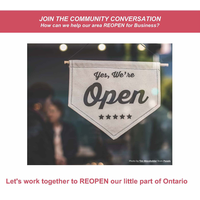 The Kenora & District Chamber of Commerce has issued an invitation to join a Community Conversation - talking about how we can help the area reopen for business.
Wednesday, May 20, 2020 @t 5 pm
The invitation reads "Let's work together to REOPEN our little part of Ontario. We know everyone is facing unprecedented hardships and challenges due to the COVID-19 pandemic.
How can we help Kenora and surrounding area REOPEN for Business?
Everyone's invited to JOIN THE COMMUNITY CONVERSATION - Share ideas, suggestions and concerns
Virtual Meeting via ZOOM hosted by the Kenora & District Chamber of Commerce
Wednesday, May 20, 2020 @t 5 pm
Pre-registration required. Register here
---