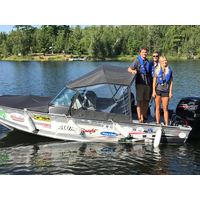 Join the LakeSmart 2020 team for a summer working in the Lake of the Woods area. It may be one of the best summer jobs out there ..... at least that's what past team members tell us.
Learn more on Monday, January 20th at U of M.
Two great summer employment opportunities at the lake (and on the lake) with LOWDSA's LakeSmart program!
We'll be talking about the program, the job, the opportunities and ready to answer all your questions.
Join us ......
Monday, January 20, 2020 @ 5:30 p.m
University of Manitoba, Fort Garry Campus
221 Wallace Building
Parking next to building - free after 4:30 (Lot K recommended)
LakeSmart is an award winning environmental outreach program unique to the Lake of the Woods area, an initiative of the Lake of the Woods District Stewardship Association (LOWDSA). We're looking for a team of two post secondary students, each with an environmental education focus, who will spend the summer sharing information on ways that we can live and play green at the lake.
Cover letter and resumes accepted until March 15, 2020. Full job posting available January 20, 2020.
Questions? Join us Monday or contact us at info@lowdsa.com. LakeSmart
---