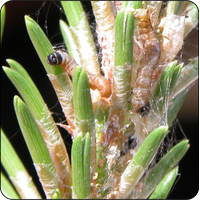 Insect Pest Management Program: Jack Pine Budworm 2021
The Ontario Ministry of Natural Resources and Forestry (MNRF) invites you to review and comment on the proposed insect pest management program and draft project proposals for specific aerial insecticide project(s) to control the jackpine budworm infestation on the Red Lake, Trout Lake, Whitefeather, Kenora, Whiskey Jack, Dryden, Wabigoon, English River, Lac Seul and Caribou Forests in the Red Lake, Dryden, Kenora and Sioux Lookout Districts. Based upon the analysis of the available insect pest management options, the MNRF is proposing a course of action that includes aerial application of insecticide on selected forest stands.
The Information Forum related to the review of the proposed insect pest management program will be held via individual or group remote meetings which may be arranged by calling the individual listed below during the review period from February 1, 2021 to February 15, 2021.
Remote meetings with representatives of the interdisciplinary team that developed the insect pest management program can also be requested at any time during the review period. Reasonable opportunities to remotely meet the program development team members during non-business hours will be provided upon request. If you require more information or wish to discuss your interests with a program development member, please contact the individual listed below.
How to Get Involved
To facilitate your review, the following information can be obtained electronically on the Ontario government website : https://www.efmp.lrc.gov.on.ca/eFMP/ viewEx.tension.do?language=en.
------
The complete information release is attached along with maps, budworm background information and how the insecticide works on forests.
---