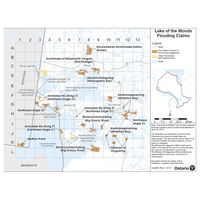 Questions about First Nations Flooding Claims on Lake of the Woods, Shoal Lake & Winnipeg River?
If you have heard something about First Nation flooding claims on Lake of the Woods, Shoal Lake and the Winnipeg River and would like to know more about what is being considered, your best opportunity to do so is in person is by attending either of our two Summer Meetings. Learn about the process for negotiation, settlement and have the opportunity to ask any questions you may have. Ontario Ministry of Indigenous Affairs (IAO) negotiators will be on hand to provide information on those First Nation flooding claims, how they relate to life on the lake and to answer your questions.LOWDSA Summer Meetings are being held again this year in two locations. iod
July 8th - Clarion Lakeside Inn, Kenora: 1- 2 pm To be followed by IJC's public meetings on water quality ecosystems in the watershed at 2:30 pm and 6:30 pm.
July 15th - Morson Community Hall: 1 - 2pm To be followed by MNRF Public Consultation on Turtle Portage Marine Railway
See attached info and map for background information and ministry contacts.
---