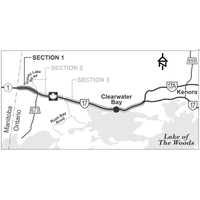 The Lake of the Woods District Stewardship Association is on the project contact list and will be notified at key points of public consultation for both upcoming studies. We believe that informed communication is highly important in keeping our members engaged and the public informed. The following is a recent update on the Highway 17 Twinning.
For planning purposes, the 40-km corridor between Manitoba and Kenora has been divided into three segments that are in various stages of implementation.
Section 1 – Manitoba Border to Highway 673: This section stretches 6.5. kilometres.

Section 2 – Highway 673 to Rush Bay Road: This section stretches 8.5 km.

Section 3 – Rush Bay Road to Kenora: This section stretches 25 kilometres and is east of Sections 1 and 2.
A construction contract was awarded in spring 2022 for Section 1. Construction is expected to be completed by fall 2024.
A preliminary design and environmental study will be commencing this summer for Section 2. A Public Information Centre (PIC) for Section 2 is anticipated in fall 2022 to present the twinning alternatives for Section 2. The earliest that construction could start on Section 2 is 2024 but is dependent on obtaining environmental clearance and other necessary design approvals.
A separate preliminary design and environmental study will be required for Section 3. This study will determine a preferred four laning route for this segment. The study is expected to begin in 2023 or 2024.
https://4lanehighway17kenora.ca
---