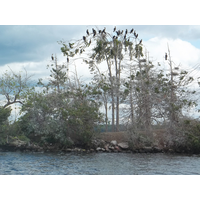 Ontario Government Proposal for Hunting Season for Double-Crested Cormorants - remains open for public comment until January 3, 2019
To review the proposal and submit your comments, go to EBR #013-4124
The MNRF (Ontario Ministry of Natural Resources & Forestry) is proposing to establish a hunting season for cormorants from March 15 to December 31 with a bag limit of 50 birds/day and require hunters to use non-toxic shot. In principle, the government is planning to use hunters as a tool to reduce cormorant populations and mitigate their impacts on terrestrial habitats, aquaculture, and property values.
Double-crested cormorant (Phalacrocorax auritus) populations declined significantly in the Great Lakes from the 1950s to the 1970s primarily due to environmental contaminants affecting reproduction. Their numbers began to increase rapidly from the 1970s to the early 2000s, with the latest information indicating Great Lakes populations have since stabilized or declined slightly.
There continues to be concerns expressed by some groups (commercial fishing industry, property owners) and individuals that cormorants have been detrimental to fish populations, island forest habitats, other species and aesthetics.
To respond to these concerns, the Ministry is proposing to create a hunting season for double-crested cormorants in Ontario. This new population management tool would allow persons who hold a small game licence to hunt these birds.
---