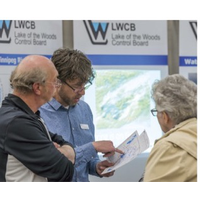 AGM Rescheduled & LakeShow Cancelled Due to COVID-19 Precautions
We are sure you have been following the news about COVID-19 (coronavirus) and as you may have expected, the Lake of the Woods District Stewardship Association (LOWDSA) Annual General Meeting (AGM) and LakeShow cannot be held on April 5th as scheduled. The LOWDSA Board of Directors made this decision out of concern for the health and safety of our members and our communities, and in accordance with recommendations and directions from government and health authorities.
The Executive and your board reviewed several options over the weekend. They have set a new date and location for the AGM, subject of course to health and safety concerns being addressed.
---
New Date!
LOWDSA 58th Annual General Meeting
Friday, July 3, 2020; 3pm-4pm
Seven Generations Education Institute
240 Veterans Drive, Kenora ON
---
While we would have preferred not moving the AGM to Kenora in July, the upside is now even those summer residents who do not arrive until July will have the opportunity to attend.
With regret and only after a lengthy discussion, it was decided the LakeShow would be cancelled for 2020. Rescheduling the LakeShow to the summer or fall was considered at some length. However, recognition of the time and costs involved to put on the event, and a real concern with anticipated attendance and exhibitor interest in either season, raised doubts about the wisdom of rescheduling to July or September.
We look forward to seeing many of you at the AGM, perhaps achieving record attendance! We trust you will understand that these decisions were not made lightly. If you have questions or comments about this new direction, please let us know by email (membership@lowdsa.com) or call 807-468-8715 or 1-888-265-9784.
Take care and be well,

Hardy Bock, LOWDSA President
---