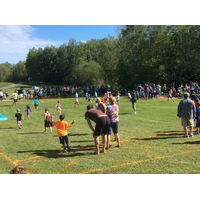 If your home or cottage is in the Laclu area or in the Townships of Pellatt, Pelican, Umbach and Gidley. ...... this just posted Laclu FB page:
The new 2019 Map is currently available at Bennett's Marine. For those of you who have closed up for the season, don't worry, it will also be available at next year's Pancake Breakfast as well as the Regatta.
This version has been completely revamped based on the new **911 address system. As well, lake depths are now included for Lake Lulu.
** Please note re 911 addresses:
The Local Services Board continues to receive questions about the emergency addresses installed at each property in order to establish 911 service in the Townships of Pellatt, Pelican, Umbach and Gidley.
This blue sign with white lettering is your civic or municipal address. It is a unique identifier for your property that will help emergency personnel find you in the event of a call for service.
There was an addressing system in place prior to proceeding with the 911 initiative that is now obsolete. Any signs related to this old system should be removed to avoid any confusion for emergency personnel.
Each property owner is responsible to update address changes, if and as required, with Service Ontario, utilities, insurance companies, etc.
---